Daily Schedule
Sakura House –Adult Day Care Program-
Our fun-filled day goes like this…
7:30 Open & Breakfast
Sakura House welcomes our seniors from 7:30 am.
Upon their arrival, everyone enjoys breakfast with some drinks. (Milk coffee, Juice & Water)
Magazines, Puzzles and socialization will be provided in a comfortable music.
We also check their Blood Pressure and Body Temperature upon arrival.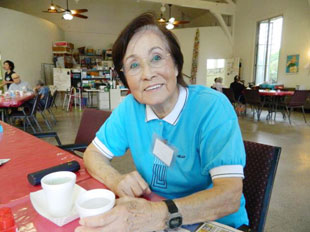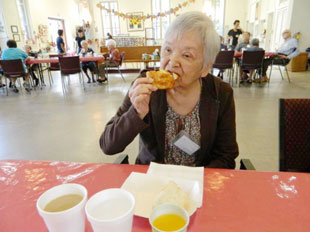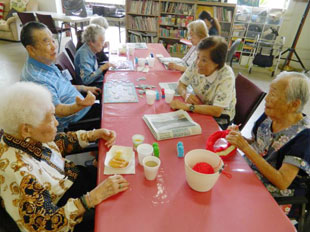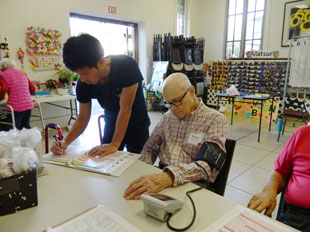 9:15 Morning exercise
Exercise in sitting and standing position. Carefully selected exercise can improve balance and physical strength so that falls become less likely.
Aging leads to decrease range of motion and might cause painful joints.
To move the joints in a relaxing way might have effective rehabilitation.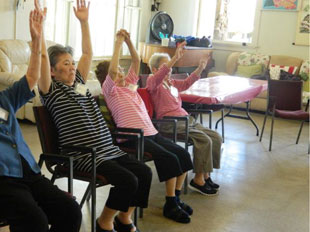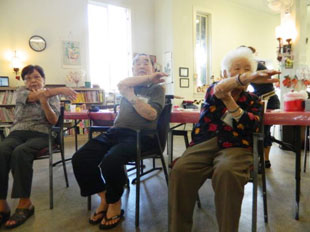 9:30 Snack time
After the exercise, a cup of fruit is served with a cup of water.
Elderly people tend to decrease the sense of thirst as they glow older.
At Sakura House, we always encourage our seniors to intake water.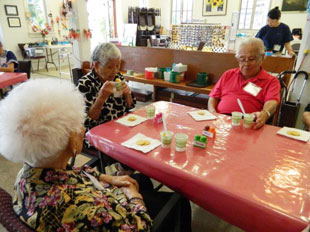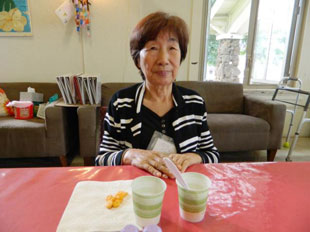 9:45 Game activity
There are lots of fun game activities and it is a little friendly competition because it may stimulate them and assist in socializing them through the game.
We consider that laughing is the best rehabilitation for senior people.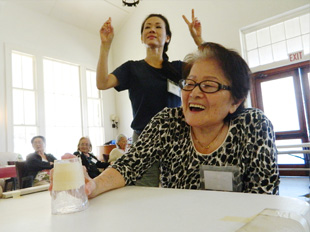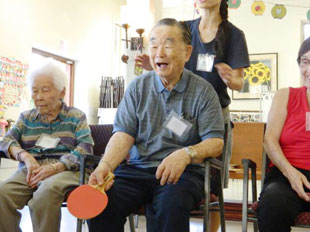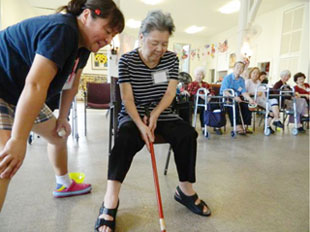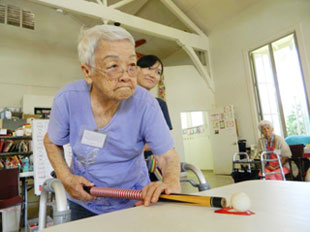 10:45 Education
It is said that "Thinking", "Challenging", "Judging" are good behaviors to activate the brain. In Education session, we have a variety of programs such as "Ikebana (flower arrangement) with a flower arrangement instructor", "Calligraphy", "Math", "Seek & Find" and "Sugoroku."
With these programs, we try to activate the brain and prevent the decrease of the workings of the brain.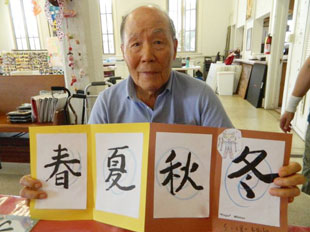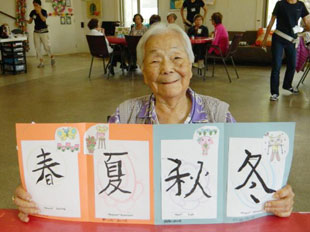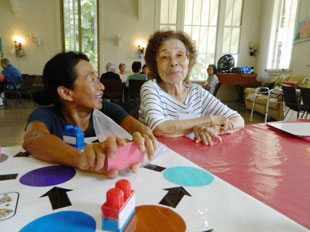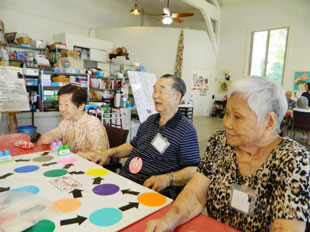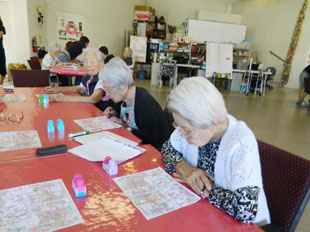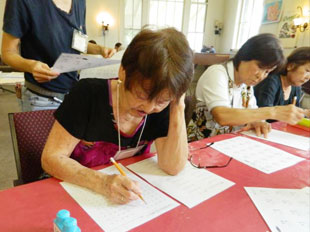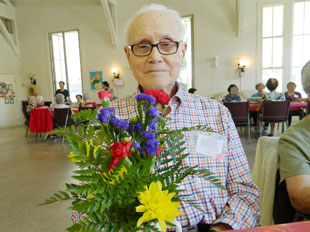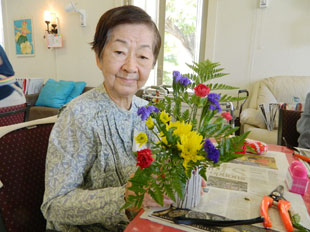 11:45 Lunch time
Variety of nutritional Japanese Bento is served with some drinks.
It's tasty Bento with good reputation from our seniors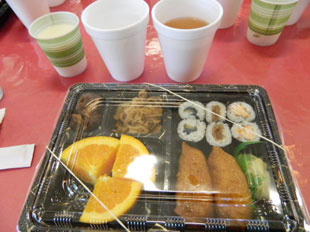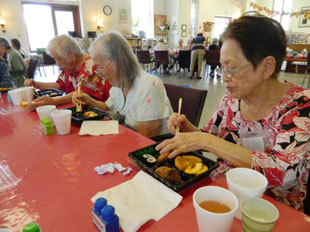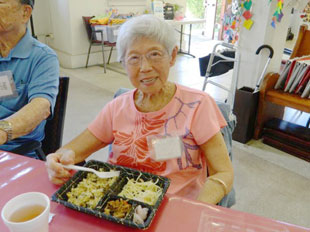 12:45 Afternoon exercise
Afternoon exercise in a sitting position to keeps their mind and body active.
To move the body constantly maintain the functions of the brain and body.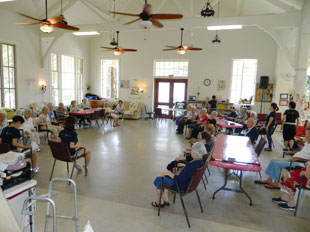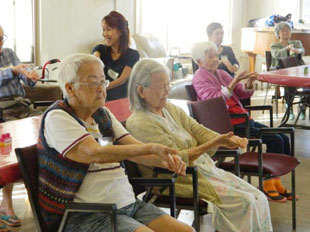 1:00 After lunch activity
In this activity, we do dance, sing some popular songs, Shiritori (word chain game) and more.
Singing along to rhymes leads to not only release stress, but also train the cardiopulmonary functions.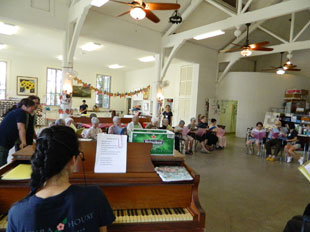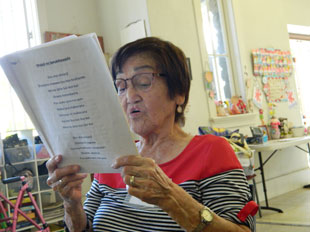 1:30 Snack time
Take a break after the lunch activity. We serve the different kinds of snack every day.
We also provide the water so that our seniors can intake water efficiently.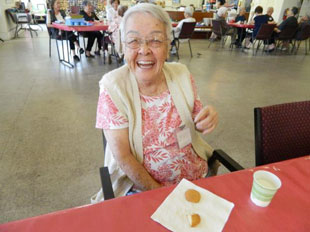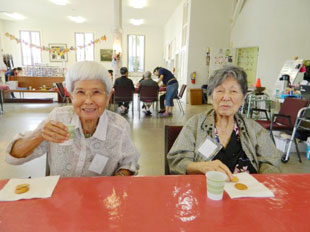 1:45 Arts & Crafts
There are tons of A&C activities depends on season.
The purpose of this session is to activate the brain using their fingers, but also we try to bring the joy of the achievement when they accomplish their artwork.
After making the artwork, our seniors bring it home as a gift to the family member.
We also decorate Sakura House with their artworks.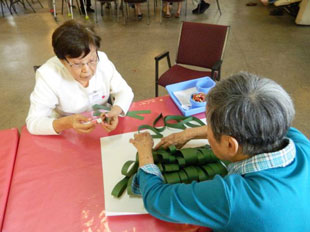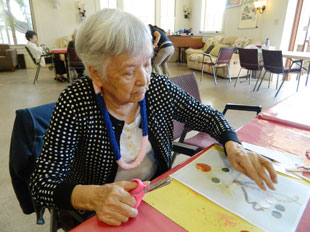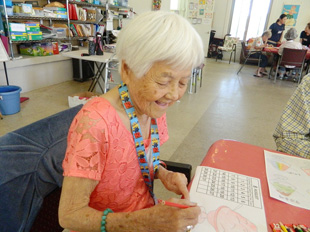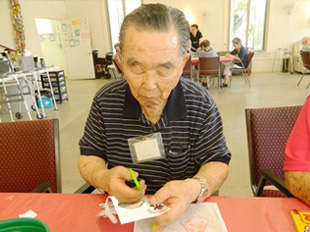 3:00 Free time
Some seniors play cards (Hanafuda, Japanese playing cards, Sevens) while others read magazines and make puzzle in a relaxing atmosphere.
The family members come to pick up from 3:00 to 5:30.
When the family members pick up, the Renraku-cho (Individual binder) is given to tell how the participant was today and health monitoring (e.g., blood pressure, food or liquid intake).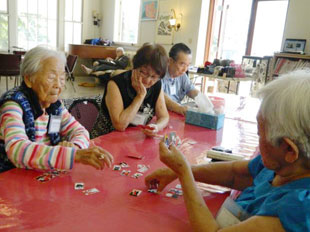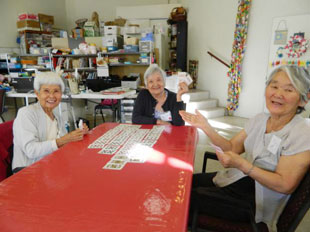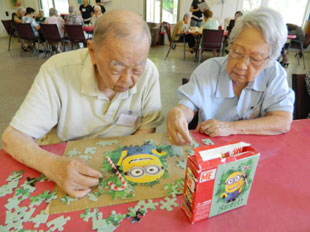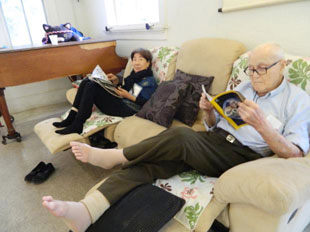 5:30 Close
Thank you for coming and see you tomorrow!
We provide exceptional care administered by a team highly trained, professional and caring staff. We all do our best to provide the safe and secure environment and bring the best SMILE for our seniors.